Rivendell Bicycle Works - Grip King Pedal Prototype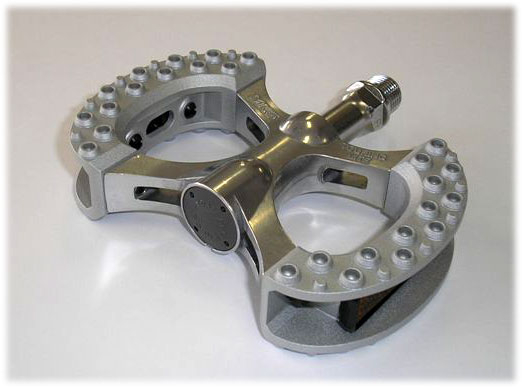 Here's a photo of the working prototype pedal which was first shown in RR39 as an artist's rendition - The Grip King.
According to the folks at RBW, it is moving forward, and they expect to have riding samples in a month, (maybe two, even three)--but the latest hurdle was How To Affix the Reflector, and that's been solved, and here's the pedal as it should be in production.
This is a Rivendell design, but it may not be an RBW exclusive. It was not designed to be toe-clippable, because there are already gazillions of those around. Not having to take a clip meant they could increase the surface area dramatically.
The weight (if such things matter to you) is still in flux, but according to Grant, it will be light-ISH, at least - Should be under 400 and more than likely in the neighborhood of 360g or less.
A few more of Grant's thoughts on this:
"I'm going to call it the Grip King, because I like the late '50s/early '60s laundry detergent sound of it, but I dunno what MKS will call it. It will be some people's perfect pedal. It won't be everybody's. But it offers good cornering clearance, great grip, and huge surface area for lotsa comfort even with flipflops.....so it ought to be good enough for somebody. Thanks. Grant"
---
- | - | - | - | -