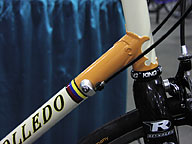 On Saturday, March 4th, my wife and I attended the North American Handmade Bicycle Show in San Jose. This was the second year of this event, having outgrown their initial location in Texas. Rarely do we have an opportunity to view so many custom builder's works under one roof. We could easily spend time in almost every booth, checking out both sublime and stunning details which these craftspeople have pulled together.
Despite the "NO PHOTOGRAPHY" command listed prominently upon the entranceways, many attendees had their digi-cams out, snapping photos of this and that. Although planning on taking a hunk of photos, I ended up looking far more than snapping pictures. Ended up just taking a few photos of the bicycles I'd never seen or heard of before. When I got home, I was actually reasonably suprised by how few photos I ended up with. Maybe I was distracted or just overwhelmed by the beauty of the craft and didn't want to see it through another medium than my own eyes. The photos I did take are shown below.
My Photos - Links to Other Photos - Other Show Stuff
---
Show Notes:
(Note - as of July '06, the NAHBS website shifted all of their pages away, so the links below have been redone to link directly to the website of the builder, or if that was unavailable, any reasonable resource.)
The number of builders, as I incessently repeated on the way home, was incredible. Ok, I'll stop saying that now - just loop it and run that in the background...
Finally seeing Sacha White's Vanilla bicycles and frames was a bit overwhelming. He really does a nice job, to understate it dramatically. I would've taken photos there, because you don't often get to see a tricycle with Phil wood solid machined hub/wheels. But, his single booth remained stuffed to the gills while we were there, and it was located just inside the two "No Photography" banners by the entrance. Besides, his website does a good job of representing the beauty of his craft. (Update - the link to "Clockwork Bikes below shows a few shots of the tricycle.) (Update v2.0 - that tricycle now has a fair number of photos in the various galleries below)
Richard Sachs had a nice presentation, both pre-painted and completely finshed frames. The cross bike was a real drooler. Just honed to near-perfection. He also had a full table of lugs, crowns and other building bits.
The other "big" booths were Brian Baylis, Bruce Gordon and Peter Wiegle - they may have been the same size as the others, but always seemed to have large crowds pressing in on them. Brian showcased a bicycle - if I got it right - which was built around racks, lights, parts and other bits which the customer had supplied. Looked like quite a challenge and the results were pretty overwhelming. Bruce Gordon just manages to have such a nice combination of art, assymetry and practicality that makes him so unique. It was nice to see the Wiegle Randonneur which got a writeup in the recent Vintage Bicycle Quarterly. The through-the-seatsay mounted rear light is a much better concept than it seemed from the VBQ write-up (not that Jan was negative - more that the reader - me - didn't really "get" the idea until seeing it).
Contrast that against the Merlin and Litespeed booths. They just didn't seem to have people staying there very long. Nice bikes, of course, but desipite the "exotic" metal (and really impressive etched/engraved tubes on the Merlin), they just seemed a bit "plain" to me. I spent more time looking at the details of this stem mounted front bag stabilizer on the Pereira Cycles "French Bordeaux" (which I stupidly, stupidly, stupidly didn't photograph...) (But wait! - photo here by Eric Norris of CampyOnly.com) (But wait v2.0! - Pereira Cycles has a beautiful set of photos on their website - go look at it here - the "stem-only" shot is here) than I did even glancing at those other booths.
I spent a fair amount of time kicking around in the Rebolledo booth down on the corner across from BG Cycles - Mauricio was a former framebuilder with Sycip - I believe he said 7 or 8 years. He said that a year or so ago, he finally felt ready to begin to forge his own path. He has a nice combination of classic design tenets - lugs & steel - with a modern approach. His road bike looked pretty spritely and was decked out with a - gasp - carbon fork. What really "hooked" me into the booth was the quality and creativity of his color choices. They were quite dramatic, but colors which seemed that you wouldn't mind looking at a few years down the road. He said that his wife was an MFA and made the color recommendations. He showed a tight tolerance track frame which people kept crowding around. I made the mistake of taking a step back after snapping the first photo and couldn't isolate the bicycle again. I would hope that we see more from him.
On another corner was Ahearne Cycles. "Handbuilt with Love and Fury" as he says. I believe it. While I was focusing on the details of his "Split Chainstays" (which I refer to below as "twin-tube chainstays"), my wife found that he had a front rack made especially for a Bianchi Milano. That's gonna cost me... He was an interesting guy to speak with, and clearly excited by his craft and the positive vibe that seemed to be coming from the folks at the show. In addition to the 29ers he showed off, there was a single speed cross frame in red that just captivated me. He coordinates with the guy up in Portland that makes the exotic wood fenders to get finished wood slats for the bottoms of his racks. Also, if you need a lug fix, check out his stunning lugged stem.
We also spoke for a while with David Wilson, who makes a really nice cargo bicycle. My wife wants one so I can put our dog in the front. (Former method here - 5mb). Though this may not happen instantly, I definitely appreciate a working bicycle. He has a traditional design using a 20" front wheel and a 26" rear. He had both a Rohloff 14 speed and Shimano 8 speed Nexus version in the booth. Sorry not to have photos of his stuff, and unfortunately, his website doesn't seem to have working links to larger photos of his cargo bike right now. (UPDATE 3/9 - David sent me an email to let me know that he fixed those links and has added updated photos of the cargo bicycle - so go check out his work!)
The Calfee bamboo bicycles must be seen to be believed. The townie has artfully placed branch nubbins remaining from the bamboo stalk. They are clearly fully functional bicycles. Something to ponder, on many levels.
Other things I scooped up:
A flyer from Freight Baggage of San Francsico - makers of courier bags and accessories. Tough looking stuff - big, boxy messenger backpacks and more traditional bags from regular to a size in which you could carry way too much. But, as of today, the url which appears on their flyer didn't work. (rechecked it 7/06 - works now!)
Patrick Cycles out of San Jose. Nice fillet-brazed frames for road and mountain. Their website does have a bit of the 404 blues here and there, but will give you the idea.
I paused for a while at Longstaff Cycles. Classic UK designs. Solo and Tandem Trikes. If I have it correctly, you can do some serious damage to yourself on a trike, if you try to ride it like a bicycle... Their website.
White Industries. Where I'll get my freewheel when the stock Quickbeam one dies. Three pawls on the standard. I felt like Tuco in "The Good, The Bad & The Ugly" listening carefully to the click-click-click of the mechanism...
---