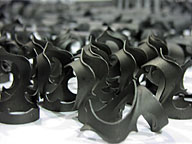 On Saturday, March 3, 2007, JimG, Carlos & I attended the 3rd Annual North American Handmade Bicycle Show in San Jose, CA. This is the second year that the show has taken place in San Jose, and the buzz had been steadily increasing as the weekend of the show grew near. Bicycle builders and related companies had been prepping their finest to put on display in what must be one of the largest collections of active bicycle craftspeople.
It was an extremely varied and infinitely interesting group - from the huge retrospective of Bruce Gordon's production to the "new builders" section, with one model and a ton of hopes. Everyone seemed uniformally on their game, and it may be a great example of the cross-fertilization of ideas combining with continually raised expectations to create a very high level of work. It was, in short, a stunning display of artistry and craft.
I took a fair number of photos, and have all but the truly fuzzily heinous down the page a bit. I've also uploaded most of the ones I really liked to my Flickr pages, along with the snapshots from "iBob - The Gathering", which took place out in front of the Convention Center at 1 pm. This was also the first time messing around with the little video camera I got for Christmas - there's a bunch of footage edited together here. As we finished up, word was out that next year the show will move north to Portland. Hmmm...seems like a good excuse for a road trip!
(Note - if you have put together a photo page, send me the link and I'll list it below. As always, I'd be happy to host your photos here as well - just attach them to an email.
My Photos - My Video - Links to Other Photos & Reports - Other Stuff
---
Show Notes:
I'm 34 pages into my first general Flickr search and still going strong. The search phrase was a simple "NAHBS", which has (as of 3/6/07) matched to just north of 1,900 photos. Sure, there are some redundancies, muffed focus shots and reptitions with minor angle differences, but it should be clear what a staggering variety of artistry and craft sat under the arched roof of the 2007 North American Handmade Bicycle Show. There are a goodly number of the bikes which I recall seeing, but there are a bunch more that I found myself wondering how I could have possibly missed them. That multi-day pass is starting to seem like a better deal...
With a minimum of fuss, JimG, Carlos and I connected with bikelist.org shepherd/wizard alex wetmore for the trip down. As we rolled past Dolores Park in San Francisco, riders had begun to gather. There was a distinct lack of non-ironic lycra. (Ironic lycra use can be seen here...) They clearly had met for the start of the Peninsula Rally, which meant they were going to pedal the 50 or 60 odd miles down to the show, descend upon the proceedings like land-bound vikings and Cal-train their way back to the city tht evening.
We were driving, as I've delicately tried not to state. JimG and Carlos had a free pass from cycling for a while, having weathered a particularly nasty SF Randonneurs' 300K the previous Saturday. (JimG's writeup, Carlos' writeup). Alex had flown down from Seattle and should be chauffered where ever he goes, as a general "thank you" for hosting the lists. That left me, just getting back to decent riding miles after my normally crunched February. Yep, I whimped and drove, but the iBobbian conversations on the way down to the show were quite enjoyable. Lots of subjects covered, some of which were kinda "pre-publication". Bikes, computer programing, tire testing, frame design... I rarely say this, but the drive went just a little bit too quickly.
Once we arrived, alex scooted into the show, trying to snag a bunch of photos on his list before the throngs pressed too close to the bicycles. He was operating as photographer for Bicycle Quarterly, Jan Heine's excellent magazine. The rest of us got our wristbands attached and eased through the gate, surfing the already rising mob that had descended upon the show. It was all I could do to keep from breaking into a dead run, and the torsional forces of cognitive dissonance pulled me - I wanted to soak in all the details and beauty of what sat in front of me, while wanting to move along the aisle to see what was next.
We found a pace that seemed to work, with the metronome beeping of JimG's pencam setting the cadence. I used my trusty old Olympus (though I'd brought my pencam too), as it had excellent low-light capability. The times which the pencam has let me down mostly related to difficult lighting conditions, and I knew the Olympus would work without having to use the flash.
The first part of the show was a blur - Tom Ritchey's early work, bilenky-Bilenky-BILENKY, 50+mph fully faired fast freddy machine, paint so gorgeous it looked liquid, oh man, look at the Baylis, flashy this, sparkly that, lineups of frames guaranteed to bust almost any wallet, folks leaning in, stepping back, firing camera strobes, snatching literature and delicately touching steel with their fingertips. In the booths, the builders sitting back, looking both a little glazed and mildly amped in that trade-show condition brought about by the exhaustion of nailing all the last-minute details combined with the pounding energy of people who keep piling in to look at your stuff. In addition to the clatter and noise of the the show, Carlos and I kept hearing this humming sound. We couldn't quite locate it, so we pressed onward.
At one point, while looking down at some front end work on a frame, a burgundy flash moved into my periphrial vision. It was a triangular bit of fabric which contrasted against some high quality wool - wool I'd seen before. No doubt about it, I'd bumped into Richard Risemberg of BicycleFixation.com. He and Gina had come up from southern Cal to enjoy the show, and we chatted a bit as we tried to make sense through the buzz of seeing so much cool gear.
Overall impressions at first were almost impossible to come by. For me, the show contains almost an infinite number of specifics, and it takes a while before I can raise my focus a bit. Plus, I found myself wondering how much my own perspective varied between last year and this year. It seemed as though there were significantly more randonneuring bicycle models being shown off. Well-integrated front racks, full-fendered, long-range and light road machines seemed to be the central aspect of many more booths - but I'm not sure if that was just because I've been more fixated on that type of riding, and they managed to catch my attention this year.
There was also a little competition going on to see which builder could use the new Shinano Alfine (AL-feen-ay) commuter/city bike group, which features internal gearing, disc brakes and a generator hub lighting system. It was won by the Man of the Mountain Bikes entry. I found that a little interesting as there were two aspects to their design that I didn't quite follow -
- Although I think the headlight placement is a really inspired hack, it does sorta raise the question, "how do I mount fenders on this bike?" You could possibly loop a bracket around behind the lamp, but it's not immediatly obvious.
- The rear rack tops out below the height of the tire. No, you are not going to plop your old Jandd trunk bag down on top of that sucker and go anywhere without the smell of smoldering cordura and rubber trailing closely behind...
That being said, I also didn't ask the builders to explain those choices, so they might have had an excellent response to my puzzlement. The lighting wiring ran inside the fork leg, and as such was extremely clean. The bike looked great, too. Just had those two things that made me go, "hmmmm..."
As long as we're chatting about Alfine entries, the ANT Bike submission had a much more Porteur-ey approach. Then I saw their singlespeed cross bike and got seriously distracted. It kind of continued like that for a while, and we rolled down the aisles.
I found myself fixating on racks in a big way this year, everything from the practical and intriguing designs over at Ahearne to the minimalist Technical Trials-influenced works from Tony Pereira and Mark Nobilette.
Back when I attended Interbike - the industry-only US bicycling tradeshow - we always saved time to go find the Independant Fabrications booth. After a couple days of trying to figure out what entry-level bikes made sense, what was new in helmets and the myriad of detail-oriented but not-quite-artistically-compelling decisions that fleshed out our purchasing for the year, the "cool" booths became an indulgent contrast. The IF booth came as a gorgeous respite from the "sameness" that was creeping into most of the more corporate booths. What is telling about the NAHBS is that the IF booth, the Merlin displays, the Masi and Chris King presentations just didn't get their hooks into me the way they would have at Interbike. There was nothing wrong with those displays, but here at this show, they were less enticing.
Of course, I did hover into IF's booth to see the cool thermos on a fork leg on their deeply-hued burgundy town bike. We should all ride such practical beauty...
It would have been easy to spend a good chunk of the day back at Bruce Gordon's presentation. He was back against the far end of the show floor, and at first it seemed normal. He had a couple of raised racks displaying his models, had a set of his brakes on display and one of his bullet rear LED lights painted in a gorgeous sage green to match the frame it was on. But racks of bicycles continued off to the right, a noticeable difference on each model, whether it was the rust-colored powdercoat on the understated rough road tourer, the quality titanium frames, the bright green tiger-striping of an older mountain bike, or the shiny bar tape of the more "classic" looking road bikes. As I reached the end of the extensive display, a fellow introduced hiimself to me as Bruce's welder - making it clear that Bruce did the frame brazing work - and pointed out the theme: Bruce had brought one bike from each year that he'd been making frames. Looking over the bicycles, it struck me that there were probably people at the show who hadn't built as many frames as BG had on display, let alone plied their trade for that number of years. Pretty danged impressive.
The humming sound cropped up again, and we finally triangulated its position and realized it was JimG. He'd become some sort of a titanium-registering equivilent of a geiger counter. As he grew close to the titanium frames on display, he'd begin chanting "MMmmmmmmm, Titaniummmmmm" in a kind of cyclical chant which was not altogether unpleasant. We ogled the Bruce Gordon Ti frames together, and later marvelled over the miniscule yet solid welds which Steve Potts was able to create over in his booth.
In comparison to the staggering amount of production which Bruce had on hand, the Vanilla Bicycles gang had brought few frames, but had probably the nicest looking booth of the show. Sacha White had put together a wonderful collection of photographs as a backdrop, and had a sloppy 'n muddy display for his team cross bike, with a smooth as buttery scotch touring frame at the other end. In the middle were various bits "in progress" - lugs being cut down, chainstays in construction and other bits. Vanilla/Sacha brings has a sense of presentation for both his bikes and the booth - one of the reasons he gets so much notice. And to state the obvious, he makes very, very nice frames.
Another display which just reached out and grabbed my eyeballs was the Waterford 953 frameset. (Through the miracle of Flickr-interactivity, the builder has already commented on our gushing - see here.) This is the new Reynolds stainless steel tubeset which Bob Brown (and others) has been working with. As my eye traced the intricate details of the flames, none other than Richard Schwinn wandered over to point out that they changed directionally as if being pushed back by the breeze. We chatted for a bit, and he proudly pointed out the guy who built the frame (engaged in another conversation on the edge of the booth), talked about how they managed to get the paint to take on the stainless, and commented knowledgeably about the old Columbus Tenax stainless from ten or so years ago. In a Rivendell Reader interview, GP had mentioned what a nice guy Richard was, and that clearly came through. The man clearly loves bikes, and Waterford is a national treasure.
On the other end of the scale - in terms of scale, not quality - there were some "New Builders" near the back of the hall with simple, hand-lettered signs and one bike. Two of them - Banjo Bicycles and Coho Bicycles - made really clean models - the Coho was a nicely understated randonneur with a cleanly integrated decaleur for the front bag. The Banjo was more of a Porteur, with a cleanly integrated front rack. (I didn't get a good still photo of either one, but JimG has the Coho here., and a couple of closeup photos of the Banjo rack whcih start here. They also show up in my video)
Rebolledo (one of the booths I really enjoyed last year) came back with some really nice models again - his unique color schemes continue to set him apart. A noticeable addition was his fully built up randonnuer model.
In another booth, Mark Nobilette was showing his demontable Randonneur frame, which separates into two sections for easy transportation. He's come up with an extremely clean approach to this, using an internal pin in the bottom bracket part of the downtube to hold the forward downtube in place. The pin runs through a groove in the shape of an arc, so the forward section of the bike pivots about 15-20 degrees away from center as you take it apart. When you put it together, the pin itself helps it notch into place, then a seatpost clamp and two bolts on the downtube locks everything in place. If I was clever, I would've shot some footage of it, but didn't think to pull the video camera out early on when his booth wasn't as crowded.
Although I really enjoyed his work last year, Tony Pereira of Pereira cycles had an even more interesting selection this year. His work was well-recognized at awards time, too. He walked away with three awards. His randonneur had "nothing extra" on it in the best sense of the word, using a rod-actuated skeleton front derailleur, having a beautifully integrated minimalist front rack and looking gorgeous with its understated dark paint and box lining. Tony was also kind enough to let me fumble through a short interview with my video camera. (I've made a second cut with only the Pereira Cycles booth and the interview here. You can also watch the enitre 9-plus minutes here).
I also got to chat briefly with Richard Sachs, who keeps bringing my next cross bike with him, but then keeps forgetting to give it to me... But, as JimG again dutifully recorded, at least I got a chance to visit with it. As far as the Sachs booth, it's a wonderful combination of naked framesets, Newvex lugs, free Twizzlers, a gorgeous photo book and, of course, his stunning fully finished framesets. There's no sense in heaping on the superlatives, but this man builds beautiful frames that ache to be ridden.
There was a ton of other stuff I'm hardly doing justice to - the smorgasbord of lugs and braze-on bits over at the Pacenti booth, along with their new mountain bike, which looked so right that it didn't dawn on me that it was shod with hand-cut 650B sized WTB tires. This whole mid-sized wheel thing just keeps getting interesting. In general, things didn't seem to scream "650B" or "29er" as much as just seeming extremely well-defined. Sure, there was eye-catching ocular candy, but a good number of builders really seemed more focused on executing well from within a set of defined constraints, which to my aesthetic is a much more robust manner of working.
In the middle of all this theorizing and overwhelming creations, around 1 pm we wandered out front to see how many of the iBob's would show up for the threatened gathering at 1pm. Turned out to be quite a few, actually, and it was very interesting to put names and faces together. By the time we began following John Speare toward a pizza place he'd seen, there were probably 25 people, with a few more who had said hello, but headed back into the show. Though the place was more bar than restaurant, we had a chance to interact in real time, face-to-face. It can be a weird thing to make the move from online to 3-D interactions, but this flowed without a hitch, as we seemed to realize that we all knew one another reasonably well. I got a chance to sit near Doug Fattic, listen to him speak about what he looks for in a quality frame, even when the detailed are hidden underneath exquisite paint jobs. He had an interesting question for the group, wondering how many of us were actually in the market to purchase a custom frame. This spurred a series of comments and questions from others in the bunch, with all of us trying to figure out just what was important to us in a custom that couldn't be dealt with "off the rack". Experiences and opinions varied, of course...
Oily pizza behind us, we headed back to enjoy more bikes at the show, breaking into smaller groups and dispersing back among the true stars of the show - the bikes, bits and folks who make them.
One Thing I Missed Which I Really Wish I'd Seen: The internally routed hydraulics on the Soulcraft rear disc brake.
---