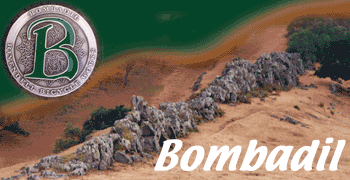 The idea of a 650B/584 size mountain bike seemed curiously daffy to some folks and angered others to fits of pontificating, complete with prognostications of tire bsd anarchy.
To me, it's an interesting use of a potentially "just right" rim size. I've enjoyed riding 700C wheelsets on trails, but the idea of slapping a 40mm-plus size tire on there is a little off my aestethic. It's pretty obvious that the "attack angle" of larger wheels is a good thing off-road, but big honkin' tires in large (40+) sizes start to make me a little nervous. I'm not a big, tall fellah with a significant motor.
On the other hand, every time I go back to a 26" wheeled mtb, it seems a little more like a toy than a bicycle. Could the 650B/584 - or as the kids are calling it, "27.5" work as a larger diameter tire that doesn't require a lanky/rangy rider?
This is one of those interesting developments that it's fun to be around. In a few years, we'll be able to begin looking back, able to offer a more balanced report. But, in the meantime, enjoy the ride!
UPDATE - Fall 2010 - With the introduction of the Hunquapiller, The Bombadil design has continued to be refined. In the fall of 2010, a new version has been brought out - in this change, the parrallel top tube has been angled and extended all the way to the rear dropouts. There is was a pdf released by Rivendell on September 9, 2010, showing the new frame. It has taken an already strong frame and made strengthened it considerably. It's interesting to read Grant's description in the Rivendell News post of the same day, in which he describes the new version as having "he much-maligned but finally accepted as it shoulda been in the first place diagatube and diagastays"...
Bombadils in the Galleries:

cc #806 - William Spencer's Rivendell Bombadil
wb #121 - Mike Pott's Rivendell Bombadil
cc #626 - Marty Gierke's Rivendell Bombadil
cc #452 - Bombadil Prototypes at RBWHQ&L
---
Bombadil on the RBW site - Early Bombadil Sizing/Geometry Chart PDF - Bombadil Articles in the Rivendell Reader
Bombadil Prototypes - RBW Owner's Bunch List Info
Other 650B/584 mtb resources: SixfiftyB.com - Pacenti 650B mtb
---
Bombadil Prototype Testing- 4/08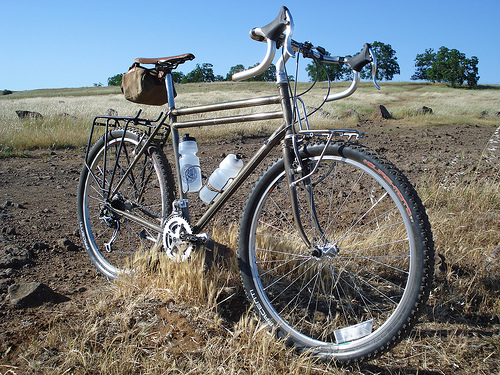 In a secret testing facility somewhere in Northern California America
Update 5/08 - Gino's BombaBlog report can be enjoyed here.
Toyoblog watch - Twin Top Tube Bombadil Prototype - 2/08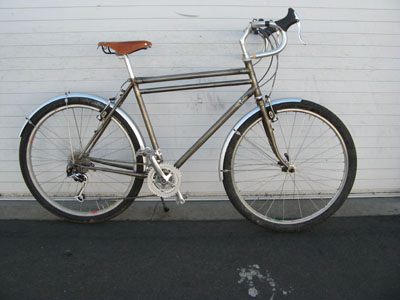 Looks like the fine folks over at Toyo have delivered another prototype of the Bombadil 650B/584 mountainbike. This one features a twin top tube, reminescent of the early days of Klunkerz on the mountain. GP has mentioned that he wants to make this bike "bombproof" even with significant loads. (Toyoblog translation supplied by Google).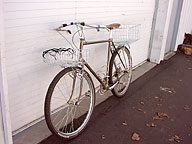 Bombadil Prototype Photos - 1/08
These images of the Bombadil prototypes were taken during a visit to the RBWHQ&L in January, 2008. I had an opportunity to take a short ride this bicycle while there. It's extremely "light" handling, even though GP has spec'd a strong tubeset. I loved the low speed stability. It reminded me of why the best of the "pre-suspension" mtb's rode so well.
As with all prototypes, there may be some changes between the photos you see here and what gets delivered as a production model. But, as with all things Rivendell, they have a relentless attention to detail. Click here to see the photos.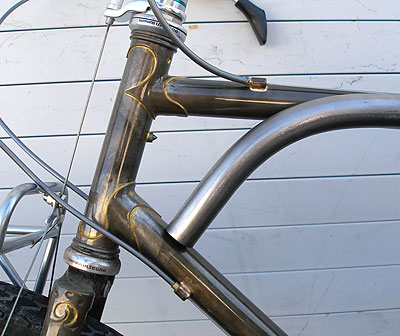 Bombadil Bracing Possibility - 12/07
Grant has been rethinking ways to add bracing to the Bombadil. One of the possibilities which he shared with the RBW owners bunch list was this curved tube addition.
Toyo Vists Rivendell - Bombadil photos on the Toyoblog - 10/07
Well, it seems that the fine folks from Toyo wisely hightailed it out of Las Vegas after Interbike - heading west to the lands of Walnut Creek. From their blog, it seems they had a good time at the show, and enjoyed the follow up visit to RBWHQ&L, where they had a chance to meet about the Rivendell Bombadil 650B mtb project - this photo was found on their blog. (Note - the links will take you to a Google Translation (Beta) version of their site.)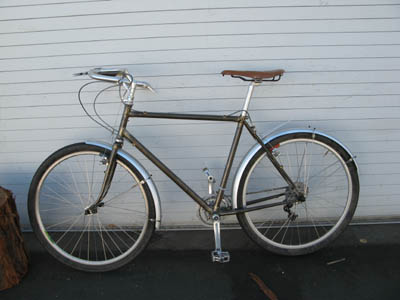 Protovelo/Bombadil Annoucement in Rivendell Reader #39
"The Not Quite Ready Department" - The first appearence of the Bombadil in the Rivendell Reader. At this point, it is still being referred to (well, until the end of the first paragraph...) as a "Protovelo". As it sits here, most of the specifics have been nailed down - the 650B/584 tire size, the basic frame layout and such. Though it does seem that the fork will get reworked. Delivery was hopeful for mid-2007, but between the sudden explosion of 650B/584 mtb tire availability and the subsequent redesign of the frame, we're hoping to see them in fall of 2008. This seems to be the same photo (though black and white) which was used in the Dirt Rag article below.
Click on the pages above to see a larger version
---
Please Note - If you don't already subscribe, please visit the DirtRagMag.com website by clicking the article below.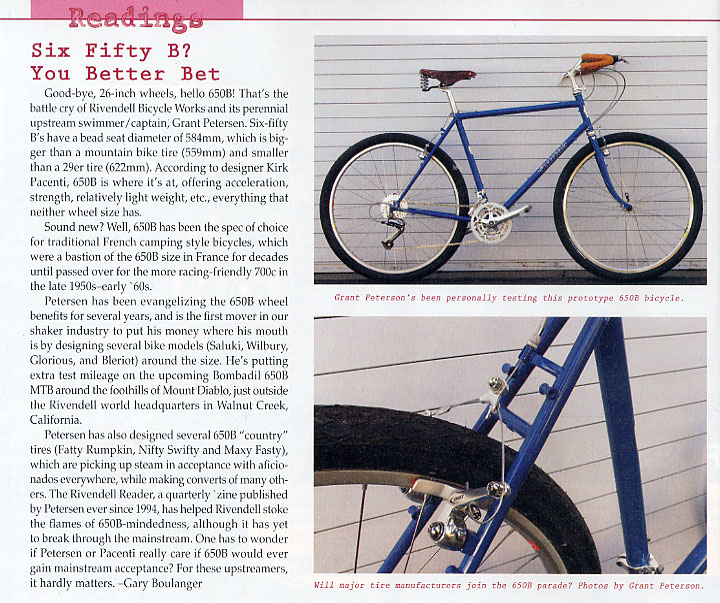 ---
---
Company Info:
Rivendell Bicycle Works
P.O. Box 5289 Walnut Creek, CA 94596
T 800.345.3918/ 925.933.7304
F 877.269.5847
---
- Rivendell Bicycle Model Pages -
| | | |
| --- | --- | --- |
| | | |
| | | |
| | | |
| Bombadil | | |
| | | |
| | | |
Please note - this is absolutely not meant to be a comprehensive representaton of Rivendell Bicycle Works, their products or their policies.
Please visiti their website, or contact them directly regarding these products.
Last updated: October 11, 2010